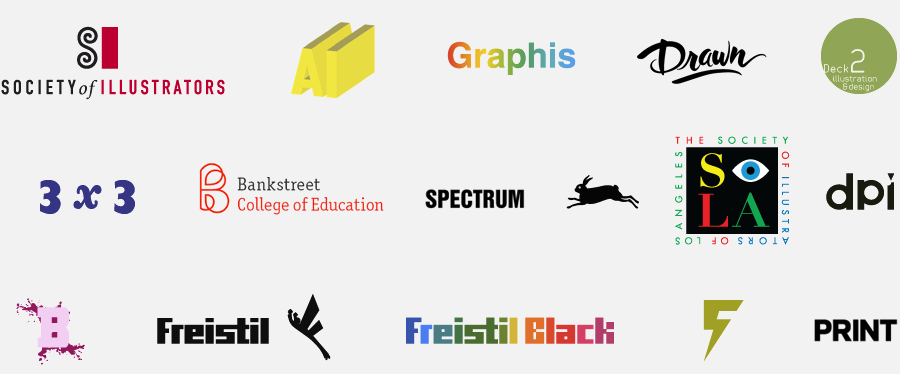 Antoine Revoy has received Gold Awards for both his illustration and design work, from Graphis and the Society of Illustrators of Los Angeles. His illustrations have been consistently distinguished in competitions and annuals by the industry's leading associations, and featured in specialized publications in Germany, China, the Netherlands, Taiwan and the USA.
Antoine has notably received accolades from American Illustration, Bank Street College of Education, DPI Magazine, Freistil, Graphis, PRINT Magazine, The Society of Illustrators NY, SILA, Spectrum Fantastic Art and 3x3 Magazine. His drawings and paintings were selected by DPI Magazine for a special edition of its
Design Stars Boulevard
series, on 'meticulous art.'
Antoine's illustrations have been selected for exhibitions at the Museum of American Illustration in New York City, the Gallery Nucleus in Alhambra California, the RISD Museum of Art, the University of Rhode Island and the John F. Kennedy Center for the Performing Arts in Washington, D.C.
---
Select Awards List:
2020–2021 Black-Eyed Susan Book Award, ANIMUS, Maryland Association of School Librarians, USA, 2020
2019 Great Graphic Novels for Teens, ANIMUS, YALSA, American Library Association, USA, 2019
The 20 Best Kids Comics of 2018, ANIMUS, Paste Magazine, USA, 2018
The 31 Best Scary Comics For Kids, ANIMUS, Paste Magazine, USA, 2018
RISD John R. Frazier Award for Excellence in Teaching (Finalist), USA, 2017
The Society of Illustrators Comic and Cartoon Art Annual, USA, 2016
RISD John R. Frazier Award for Excellence in Teaching (Finalist), USA, 2015
Spectrum 22: The Best in Contemporary Fantastic Art (2 entries), USA, 2015
Best Children's Books of the Year, Bank Street College of Education, USA, 2014
Illustration West 51 (2 entries), Society of Illustrators of Los Angeles, USA, 2013
American Illustration 31 (Chosen), USA, 2012
Spectrum 19: The Best in Contemporary Fantastic Art, USA, 2012
Illustration West 50, Gold Medal, Society of Illustrators of Los Angeles, USA, 2012
Hand Drawn 2012, Print Magazine, USA, 2012
Graphis Logo Design 8, Gold Award, USA, 2011
Spectrum 18: The Best in Contemporary Fantastic Art, USA, 2011
The Society of Illustrators Annual 53, USA, 2011
American Illustration 29 (Chosen), USA, 2010
3x3 Magazine NO. 6, USA, 2009
βFreistil Black: Best of European Commercial Illustration 4α, Germany, 2009
Freistil 3 - Best of European Commercial Illustration, Germany, 2007
Features:
Protocol, USA, 2021
The Comic Maker's ABC / "@"x"q"…"{"p "K"€"}"y"{"ƒ"y"ƒ"""p, Russia, 2021
EditionsH, France, 2020
AppBubbleBD, France, 2020
Manga News, France, 2020
Horror DNA, USA, 2019
Kirkus Reviews, USA, 2018
Booklist, USA, 2018
ComicsVerse, USA, 2018
Under the Radar, USA, 2018
Book Riot, USA, 2018
Paste Magazine, USA, 2018
Fictional Frontiers (Podcast), USA, 2018
Bleeding Cool, USA, 2018
Entertainment Weekly, USA, 2017
RISD XYZ, USA, 2017
Fast Company, USA, 2016
Slash film, USA, 2016
Gizmodo, USA, 2016
New Stories for Newtown, USA, 2016
Providence Journal, USA, 2016
Casemate Magazine, France, 2015
Comics & Cola, USA, 2014
Paste Magazine, USA, 2014
Seven Impossible Things Before Breakfast, USA, 2013
Modart, Germany, 2012
Design Stars Boulevard vol. 12, dpi Magazine, Taiwan, 2011
Web Design Index 9, The Pepin Press, Netherlands, 2010
BEYOND ILLUSTRATION: The Finest in Contemporary International Art & Illustration, Germany, 2009
Alternative Pick Deck #2., USA, 2007
Drawn!, Canada, 2007